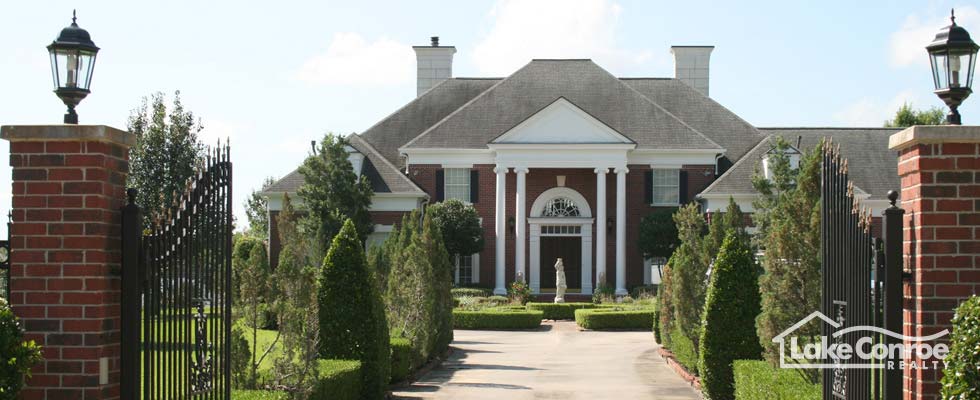 Del Lago Estates On Lake Conroe
Del Lago Estates is located at the base of Walden Peninsula and is one of the first communities on Walden Road after the intersection of Hwy 105. Del Lago Estates is a gated community and is a separate community not attached to Del Lago. Less than a handful of waterfront lots remain in Del Lago Estates have a value of $400,000 to $600,000. A total of 76 home sites are platted for the neighborhood with 58 single family homes currently built in the subdivision. Originally developed in the early 1980's, Del Lago Estates residents enjoy a low tax rate (1.9%) by having aerobic septic systems and not being in a municipal utility district. Water is provided by a private source and is governed by the Del Lago Estates water board. Natural gas and a private boat launch is available in Del Lago Estates. Its close proximity to grocery stores, medical facilities, restaurants, Wal-Mart and shopping in Montgomery are a bonus along with its close proximity to Stewart Creek Elementary Schools and the Montgomery Junior High School. The homeowner's association dues are affordable for estate sized lots ranging from ½ acre to 1 acre plus in size. Interior homes on 1 acre lots will start near $300,000 while homes in excess of $2,500,000 are located in Del Lago Estates on the water. The community features only two private streets – La Mirada Drive and La Jolla Circle. All Lake Conroe Waterfront Homes are located on La Jolla Circle. Some of the most spectacular waterfront estate homes are in the community of Del Lago Estates making it an older but very prestigious place to line on Lake Conroe. Investment Management Company is the property manager for Del Lago Estates and they can be reached at
936-756-0032
or by email at
felicialeflar@imcmanagement.net
. Del Lago Estates personal representative from Investment Management Company is Felicia Leflar. I.M.C. (Investment Management Company) strictly enforces the Deed Restrictions of our community. When you contact I.M.C. all your questions are handled by an experienced representative who is knowledgeable in our community.
Benefits of Living in Del Lago Estates on Lake Conroe:
Montgomery School District
Large Lots of ½ to 1+ Acres both Waterview and Waterfront
Lowest Tax Rate on Lake Conroe
Gated Community with Private Streets
Private Boat Launch
Affordable HOA Dues & Close Proximity to Schools
Some of the nicest Estate Homes on Lake Conroe
Utilities
Directions to Del Lago Estates On Lake Conroe
Take Hwy 105 until you reach the intersection of Walden Road. Take Walden Road approximately 1.5 mile past the Wal-Mart and the Palm Beach Professional Plaza on the right. After passing the intersection of Freeport Road the entrance to Del Lago Estates will be 1/2mile on the right hand side of Walden Road. It is gated access Lake Conroe waterfront neighborhood.